mymenopause support programme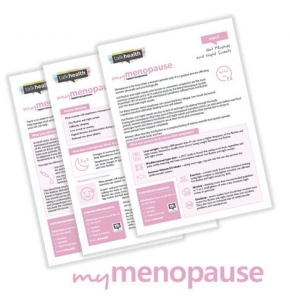 mymenopause support programme
The menopause is a natural part of ageing that usually occurs between 45 and 55 years of age, as a woman's oestrogen levels decline. Most women will experience menopausal symptoms. Some of these symptoms can be quite severe and have a significant impact on everyday activities.
Some of the topics the programme covers include:
What questions to ask your doctor
HRT and Cognitive Therapy
Diet and Exercise
Sleeping and hot flushes
The programme was very informative with interesting topics
Alison
(Oct 21)
I found the my menopause programme very informative and feel that it answered all my questions..especially about how you feel mentally and trying different things to help with the way you feel..
Alison
(Oct 21)
Regular informative emails with easy to understand topics and guidance for further reading. Bullet points to guide you to seek additional information. Colourful slides.
Charlotte
(Oct 21)
A useful and informative programme that enhances understanding of the menopause and associated factors and provides useful links should further information or support be required. A helpful tool for people who want to gain knowledge and insight on all things menopause related.
Fiona
(Sep 21)
It has helped me to keep a close look out for any relevant symptoms
Dawn
(Sep 21)
I learnt a lot where otherwise I couldn't get the information I wanted or needed elsewhere
Forida
(Sep 21)
This is a very informative course. I would recommend that all women access it. Good information and practical advice too.
Nicola
(Jul 21)
I would recomend mymenopause as there is plenty of information and help.
Janice
(May 21)
A concise but thorough programme which delivers all the main points a woman needs to know about. Something which affects us all but is often dusted over deserves far more coverage and the programme goes a long way to answer all the burning issues.
Julie
(May 21)
It was very interesting to hear other women's views and experiences as they went through the menopause. It also gave some information that you would have had to ask a doctor about.
Janice
(May 21)
Clear advise, easy to follow, easy to find for women at all stages of menopause
Filippa
(Feb 21)
Menopause has always taking backstage to many other problems that women suffer from. It is vital to understand the process of it and how to cope with the symptoms.
Teresa
(Jan 21)
It explains things easily.
Tracey
(Dec 20)