Cleanmarine® MenoMin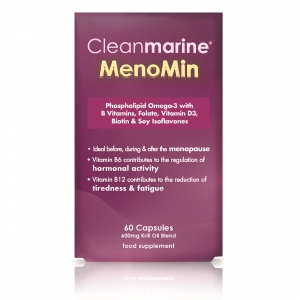 Cleanmarine® MenoMin is ideal for menopausal women, helping to regulate hormonal activity, maintain normal mucous membranes, as well as reduce tiredness and fatigue.
*Now available on prescription*
Each capsule of Cleanmarine MenoMin contains Omega 3, Biotin, Rosemary Oil and Soy Isoflavones along with a range of vitamins to provide nutritional support for this phase of life. Vitamin B6 contributes to the regulation of hormonal activity and along with vitamins B1 and B12 it also contributes to normal psychological function.
The menopause can be a draining experience energy level wise for some women. Why not consider a natural approach to maintain energy levels? Cleanmarine MenoMin contains biotin plus Vitamin B1, B2 and B6 that contribute to normal energy yielding metabolism while Vitamin B2, B6, B12 and folate contribute to a reduction in tiredness and fatigue.
Cleanmarine MenoMin contains both Vitamin B2 and biotin that contribute to the maintenance of normal mucous membranes which line the vagina and other parts of the body including the mouth.
Bone health is very important as we get older and especially as we approach the menopause. Cleanmarine MenoMin contains Vitamin D3 which contributes to the maintenance of normal bones as well as the absorption and utilisation of calcium from the diet.
Think of Cleanmarine MenoMin as your all in one peri and menopausal daily supplement.
This product is magic as soon as l started taking it my hot flushes disappeared overnight l wondered was that a fluke, so l stopped taking them and they came back until l resumed taking the tablets again.
Then l wondered if my mood swings that l struggled to control would also be more manageable when taking the pills.l experimented again and found l struggled more until l returned to taking the pills again, it wasn't an overnight success like the flushes and I needed a few days to return to being calmer.
Tania
(Mar 21)
I have been trialing this product for 2 months for menopause issues.
Now and during that time I have found them easy to swallow. They don't have any after taste, which has been very good.
The things I have noticed while taking the supplement
1) My skin is less dry and less itchy, I have had fewer break outs which has made me more confident.
2) My nails are stronger and do not split.
3) There is less hair in the plug and in my hair brush. This was a concern for me as I don't have thick hair and I was loosing so much when I shampooed or brushed my hair.
4) The hot flushes I have had since I was 50 are infrequent now. I wish I had this at the start as I would have benefited from it greatly.
I would be happy to recommend Cleanmarine MenoMin as an aid to symptoms of menopause.
Margaret
(Jan 21)
To be honest, when I received these tablets I wasn't expecting them to do much, as I'm at the end of my menopause. So I started to take 2 tablets a day as required and didn't really think about them much for a while. It was around two weeks later that I noticed that the calcium spots on my finger nails had gone and also my sex drive had started to come back, I also realized that I wasn't having so many hot flushes which for any women is a godsend. So for me I'm really impressed with these tablets so much so I bought a new box before I ran out of them and have been taking them ever since, so yes I would urge all women to give them a try.
Georgina
(Jan 21)
These were convenient to use due to easy access packet and easy to swallow due to the smooth outer casing. There was no after taste and they were better taken before food. Within a couple of weeks my hot flushes and night sweats seem to ease and I slept deeper at night. I didn't feel so anxious and could cope better with life's ups and downs.
I did experience headaches and these did ease when I stopped taking them, but I am not entirely sure it was linked. I will probably only take one a day next time to see whether the ingredients were better suited at a lower dosage.
Tracy
(Jan 21)
The capsules were easy to swallow and tasteless which was great. In terms of impact, I definitely noticed a difference after about two weeks of taking them. A notable reduction in hot flushes/sweating as well as increased energy levels and less mood swings! I also slept better as a result. This is definitely better results than i had expected.
Hema
(Jan 21)
My hope and expectation for this product was an easing of hot flushes and night sweats which I am still experiencing 6 years after the menopause. From that respect I found only a minimal effect. They do seem slightly less intense and marginally shorter.
What I had not expected was a change in my sleep patterns and I was thrilled to find a dramatic improvement. For many years I have struggled to sleep for more than 3-4 hours and found it impossible to go back to sleep once awake, but 2 weeks after starting the supplement I realised I was sleeping for 4.5 – 5.5 hours. In addition, I now find it easier to stay relaxed and even nod back off again.
I have generally felt calmer despite starting a new job and having to cope with a stressful and sad situation caring for a family member.
My energy levels have been greater my mind clearer and my memory is improved.
This was a 2-month trial but I plan to continue taking them despite the rather high cost.
Frances
(Jan 21)
I have been taking the product daily for approximately 2 months. After 10 days I noticed a drop in hot flushes, which usually were about 4 a day...until around 16 days; when I was barely having 1 a day. I was able to get through the day without the discomfort of hot flushes and I was so pleased. Also, I was now feeling more energetic throughout the day - I couldn't put it down to anything other than Cleanmarine. I have struggled with energy levels throughout the menopause, so I was pleasantly surprised to be feeling so much better - my mood lifted also. I have tried plenty of supplements over the years, but I have never had these results. My only worry is that I'll run out and won't be able to get more!
Edel
(Jan 21)
I was at first very wary about the product, thinking will it work or not, but after the first week off taking Cleanmarine Menomin I notice no change, but as the weeks went on I noticed my skin and hair looked different. My skin feels more radiant and my hair is less white, as with black hair it's very noticeable.
These are fantastic both for mental and physical wellbeing, PMS well reduced and notice anxiety gone too.
I would say taking these for 2 months now the product has helped me enormously with my peri-menopause symptoms which have gone into remission and I'm not as tired as I used to be, I have more energy.
I would highly recommend these Menomin to anyone going through peri-menopause - it works with me.
Kathy
(Jan 21)
Since beginning to take 2 daily capsules of Cleanmarine MenoMin I am so impressed with the effects on my menopausal symptoms. I'm over 50 and have particularly been experiencing general dryness.
My facial skin has gone from dull and papery to looking much brighter and even regaining some plumpness; fingernails have been less prone to splitting; my hair feels softer and more full and even 'intimate area' dryness has shown a noticeable improvement, which was an unexpected but very welcome result. I have also noticed that my creaky knees and ankles have become more mobile and less noisy! In just two months, my symptoms have improved considerably.
The capsules are easy to swallow and have no unpleasant fishy aftertaste - the only slight issue I experienced was a breakout of spots on my chin after two weeks' use, but that cleared up within a few days and frankly was a very small price to pay for having such amazingly positive effects in the longer term.
I would wholeheartedly recommend trying MenoMin - the results for me have been very noticeable and positive - it feels almost as if my body has reset itself back several years. Amazing.
Jane
(Jan 21)
I would like to start by saying that the tablets are easier to swallow than they look and are tasteless too. I am afraid I could only give them 3 stars as they didn't do as I had hoped and relieve the menopausal symptoms that I am still struggling with despite being as I thought many years past my menopause. I still have hot flushes and the ingredients in Cleanmarine MenoMin should have helped with this but I am afraid in my case this didn't happen. I am also very unhappy that MenoMin doesn't include iron which I need to take. It would also have been more beneficial to have included Omega 7 rather than the 9 that most people don't need. For me, these tablets just don't have enough ingredients to help with my symptoms.
Sue
(Jan 21)
I have had the pleasure of trying Cleanmarine MenoMin for 2 months and am very pleased with the product. The capsules two per day are very easy to swallow no unpleasant taste. After two weeks of taking them, I began to feel less tired and slightly more energy which is good for me as I have lived with a huge lack of energy for a few years. My facial skin appears brighter and less tired looking in fact my friends have commented how good my skin looks for my age and I can only put this down to taking Cleanmarine MenoMin. I do feel much brighter. I like the natural ingredients phospholipid Omega-3 with B Vitamins, Vitamin D3, Biotin & Soy Isoflavones all-natural and healthy and do feel they have improved my well being, in general, helping me with less mood swings and feeling more evenly balanced.
CarolJane
(Jan 21)
I have just finished my second box of Menomin and I will say I am definitely going to continue taking them.

After the first two or three weeks or so I noticed I was sleeping better, for longer periods and not waking so often. I realise now that this was probably due to less joint stiffness and pain which had been disturbing me.
I can now get up from the floor easily, something I haven't done for months. My knees and shoulders are SO much better, I would highly recommend Menomin to ladies with this type of menopause problem.
Louise
(Jan 21)
I received my supply of Cleanmarine® MenoMin and must admit I was initially sceptical of any lasting improvement of my menopausal symptoms which include fatigue, insomnia, hot flushes, and night sweats, plus mood swings. I began taking the product as soon as I received them and for the first month I was pretty much on symptom watch daily, by half way through this I relaxed and continued worrying less about watching those symptoms as much, which relaxed me more I have to admit. By the end of the first month, I realized I was sleeping for longer, averaging about 8hrs up from around 6hrs, not only that the quality of the sleep was much better on the whole. By the beginning of the second-month things had improved beyond my expectations, I was much more relaxed and felt better in myself mood-wise, experiencing fewer dips and felt more balanced. my other symptoms improved greatly my hot flushes were occurring less, the night sweats were down for every night to once or twice a week, I had more energy, doing more things in a day, my garden has never looked so good. On the whole, I would say this is an excellent product, which I genuinely wanted to continue for the benefits I experienced and how they helped my symptoms. The only thing I would add is I tried to source more of the product to continue and found the price quite expensive. I give the product a 4-star rating from my own experience of using and the benefits experienced, I have dropped 1 star for the price.
Louise
(Aug 20)
I am a 53 year old woman who suffers from hot flushes but I also suffer from arthritis and irritatable bowel.
After taking MenoMin for 2 months, I do feel that my hot flushes have decreased and are not as intense. My general health appears to have improved I feel less tired, I have arthritis but I still feel the benefits even in my joints. Sometimes I forgot the night time tablet so maybe a one a day tablet might be helpful, overall I felt that I benefited from the tablets gaining more energy as time went on, some people might find the size of the tablet to large to swallow but there was no after taste as with some supplements.
Joanne
(Aug 20)
I received the MenoMin very quickly and was a little apprehensive as it contained Krill oil. I really thought I was going to hate it as I'm not fond of fish and thought I'd be able to taste it. I opened the packet and smelt inside but couldn't smell a thing! The capsules were quite easy to swallow and I started taking them straight away.
I had been suffering for months from terrible sweats during the day and especially at night, where I'd wake absolutely dripping in sweat, which wasn't nice at all. It was difficult to cope with, as I felt I was constantly getting changed and doing the laundry I was changing bedding so often!
I had a major lack of energy and strength, it took me ages to motivate myself to even get out of bed most days. I suffered daily headaches, brain fog and I really wasn't sleeping well at all, spending most of the night awake and then dozing off through sheer exhaustion at around 6am when it was time to get up and start a new day! My work suffered as I struggled so much.
I wasn't expecting changes from using MenoMin overnight, or for them to be so noticeable. But in reality, it only took around 10 days for me (and other members of my family) to start seeing a difference.
My brain started feeling less 'stuffed up' and the fog lifted a little. I wasn't forgetting so much, or repeating questions I'd already asked according to my adult daughter.
I started to sleep a little better, just one or two nights at first which soon crept up to 5-6 nights which was fantastic for me. Sleeping for even 4-5 hours a night felt like a miracle. I felt like I had a bit more energy as the days went on and certainly felt more positive, which I think encouraged me to get up and try things. My enthusiasm to do things slowly returned and I did feel stronger in myself. I wasn't lifting weights or anything like that, but I felt like I had a bit more strength within my arms and legs, which had been holding me back before, and also an inner strength within me. I started feeling a bit more confident too which was great.
But the best thing that happened was the sweats eased off quite a lot. I was able to go out and didn't have that 'dripping tap' feeling attached to my head! I still perspired a bit, but felt I was glowing - and the bonus was that I didn't have to keep dabbing at my sodden brow so often. That felt absolutely fantastic for me. The night sweats lessened and I was sleeping more, which helped with my energy as I was having restorative sleep.
All in all I'm really happy to have found MenoMin as it's helped me a lot. As I said before, I wasn't expecting such great results but overall I'm really pleased that I tried MenoMin as it really reduced a lot of my symptoms.
I would definitely give the product a 5 star rating. If anyone is wondering if they should try MenoMin, I'd say give it a go. You never know how it could help you if you're suffering from symptoms of the menopause. I was surprised by the positive results, hopefully, others will be too.
Beverley
(Aug 20)