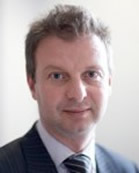 Mr Jeremy Ockrim
Consultant Urological Surgeon in Female and Reconstructive Surgery
MrJeremy Ockrim is Honorary Associate Professor at University College London (UCL) and Consultant Urological Surgeon in Female and Reconstructive Surgery at University College London Hospital (UCLH), London.
Mr Ockrim trained in Glasgow before moving to Imperial College, London to complete his postgraduate thesis in 1999. He has an Honours Degree in Immunology; and his MD thesis from the University of London. His fellowship was undertaken at the Royal Melbourne Hospital, Australia.
Mr Ockrim trained at the Institute of Urology, University College London Hospital (UCLH) and was appointed to his consultant post in 2008. UCLH offers tertiary expertise in Reconstructive Urology to Urologists and Urogynaecologists nationwide. He continues his academic and teaching links at UCL, and has written extensively on lower urinary tract dysfunction, male and female incontinence, detrusor overactivity, urogenital fistulae, diverticula, mesh and mesh removal surgery and bladder reconstructive (Mitrofanoff) surgery.
Mr Ockrim specialises in the treatment of bladder and prostate dysfunction, male and female incontinence and prolapse including colposuspension, TVT/TOT, complications of mesh implants, male sling, artificial urinary sphincter implantation, urinary fistulae and diverticula surgery, bladder augmentation / replacement and both continent and incontinent urinary diversion. He has particular interests in vaginal surgery for complex incontinence, fistulae repair and urethral diverticulae.
Mr Ockrim is a member of the British Association of Urological Surgeons (BAUS), European Association of Urology, Royal College of Surgeons of Edinburgh, Royal Society of Medicine, British Medical Association and is assistant editor of the Central European Journal of Urology.
Jeremy lives in London with his wife and three children.